You can now deposit checks on the go with Remote Deposit Anywhere! Just point, shoot and deposit. Sign up today by following a few easy steps in the deposit menu using our mobile app.
What is Remote Deposit Anywhere?
Remote Deposit Anywhere (RDA) allows you to make deposits straight from your smartphone. It utilizes the camera app to take snapshots of the front and back of the check to create a deposit for you. You can do this anytime or anywhere, whether you are on vacation or just don't want to leave your house.
*Some restrictions apply, please see the FAQ below or call (814)-623-6093 to learn more!
Frequently Asked Questions for Remote Deposit Anywhere
*A complete list of the RDA Terms and Agreements is available upon enrollment to the RDA function.
1. What items are eligible for RDA?
Personal checks made payable to owner/owners of the account.
2. What items are NOT eligible for RDA?
Cash, checks made payable to anyone other than the owner/owners of the account, non-US checks, post-dated checks, stale-dated checks, money orders, traveler's checks, HELOC access checks, credit card advance checks, Comdata checks, US Treasury checks, and checks that have already been submitted through RDA.
*A complete list of the ineligible items is available in the "Terms and Agreements" that you agree to upon enrollment of RDA.
3. How do I know if I am eligible for RDA?
To be eligible for RDA your account must be open, active and in good standing for at least 6 consecutive months. This means that you need to be using your account correctly and have no overdrafts for 6 months prior to your application date. 
*Eligibility for use of the Services may also be based on factors such as credit worthiness, the extent of your relationship with us, transactions and experience information, and other factors as Hometown Bank of Pennsylvania, in its sole discretion, deems relevant.
4. How do I endorse the back of the check?
Each check must be endorsed "For Mobile Deposit Only" on the top line and directly below it you must include the endorsements of all payees.
5. What is the cut-off time for RDA deposits?
Deposits will be accepted for the current banking day through RDA up until 8:00 pm Eastern Time on a business day (Monday –Friday). Deposits accepted after 8:00 pm on a business day will be processed on the following business day.
6. When will my deposits become available?
If a deposit is received and accepted before 8:00 pm Eastern Time on a business day (Monday-Friday) that the bank is open the deposits are made available no later than the next business day from the day of the deposit unless a hold is applied, in which case you will be notified.
7. Are there limits for my deposits?
Yes, the daily limit is $1,500.00 per business day, up to $3,000.00 per month with a limit of five items deposited per day, up to a limit of twenty items deposited per month. *If you reach your deposit limits and try to exceed those limits, we may reject your deposit.
8. Can accounts be added by the customer after RDA is set up and already being used?
No, when you, as the customer, set up RDA, one of the screens you come by is the screen where you must check all of the accounts you want to be able to remote deposit into. Once you have selected these accounts and moved to the next screen of the set up process, you cannot add new accounts to the RDA function yourself. You must call the bank and have them do that for you.
 9. Can I use RDA for a business account?
At this time, we are not allowing the use of RDA with business accounts. In the future we will be offering RDA for businesses, it is called Micro-business RDA. Check back with us in the future if you are a business!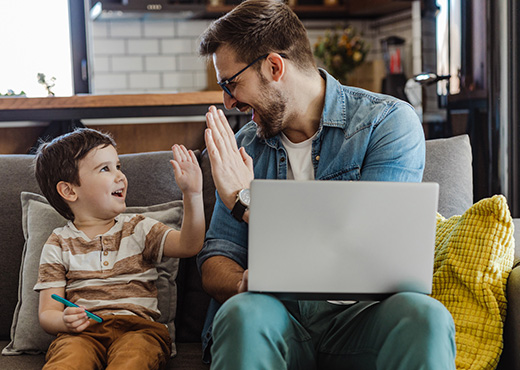 Banking
Online Banking works for you.
Make deposits, transfer funds and pay your bills, all with online banking from any device!